Wear Solutions GmbH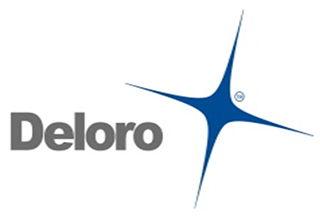 About Us
Deloro Group is dedicated to providing superior and reliable solutions for Wear and Corrosion Protection. Formerly known as Deloro Stellite, the company was acquired by the Madison Group in November 2015.
Brief History
The history of Deloro Stellite started in 1868 in Deloro, a small gold mining village in Ontario/Canada. The Goldmines of M.J. O'Brien produced—in addition to gold—very clean Cobalt. Around the same time, Elwood Haynes filed a patent in Kokomo, Indiana/USA, for Cobalt based hard metals. He called his discovery Stellite®, derived from the Latin word "Stella", for star.
The Deloro Group Comprises of Four Companies
Deloro Wear Solutions GmbH – offering bespoke components, coating services, consumables and equipment. Deloro Microfusione S.r.l. – leading manufacturing services provider for highly demanding air and vaccum cast super alloy investment casting. Deloro HTM – offering HIP (Hot Isostatic Process) for redensification, near net shape and bi metallic components. Deloro Coating S.r.l. – offering high quality coating services utilizing a wide range of cobalt, nickel , iron and tungsten carbide based alloys.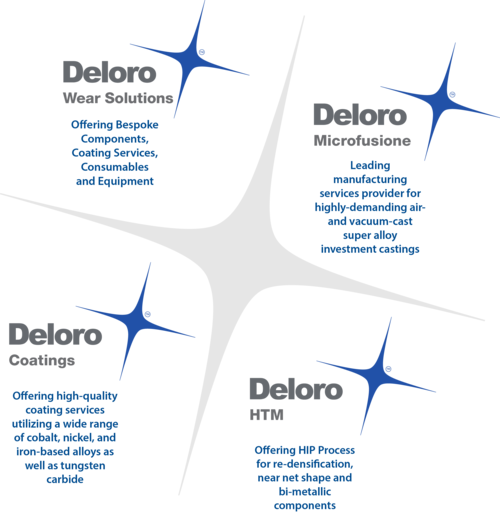 Our Area of Expertise
We provide products and services to businesses in a variety of different industries where problems with wear (heat, abrasion, corrosion, erosion and galling) in products that often operate in harsh conditions give rise to shortened working life, high maintenance cost and high downtime.
Deloro Wear Solutions produces its own proprietary metal alloys from cobalt and nickel which have outstanding metallurgical and physical properties which are ideally suited to solving these wear problems.
Backed up by a substantial product knowledge, we procure these sophisticated alloys and then convert them via a number of processes, described below, into materials (rod, wire, powder and electrodes) that are mostly used by our clients offsite, or into customer-designed components (usually cast) which may also be finished in our own machine shops and generally form a small, but critical part of the customers' own product.
Our expertise in engineering complex solutions to customers 'wear problems' provides our customers with a technical partner enabling them to produce products with competitive advantage in their own market places because they last longer, perform better and are more cost effective.
Castings: a variety of casting processes (using sand (Sand Casting), resin (Resin Casting), investment (Investment Casting), centrifugal (Centrifugal Casting) to produce a range of components from a wide array of alloys.
Powder Metallurgy: production of small, regularly shaped components using formed metallic powders.
Coating Services: the application of wear-resistant materials, like StelliteTM, DeloroTM Tungsten or Chromium Carbides and Ceramics, to critical areas of components using spraying technologies, like HVOF, Plasma Spray and Spray & Fuse, and welded coatings, like PTA, TIG and electrode Welding.
Machining: full machining of complex shapes in extremely hard materials.
Hardfacing Consumables: offering a variety of predominantly cobalt- and nickel-based rod, wire, powder and wrought products for welding, thermal spraying.
Equipment Design and Manufacture: world-class PTA coating and HVOF systems.
Specializes in production of equiax components used in the hot gas path of industrial gas turbines
Manufactures blades, vanes and rotor heat shields both, cored andnon-cored
Pouring Capabilities up to 160 kg (gross), Milan can cast fairly large types of IGT blades
Produces super alloy components used for IGT combustion chambers and the hot gas path, including burners, swirlers and stator heat shields
Hot Isostatic Pressing (HIP) Parts treated at high pressure, high temperature , in the presence of inert gas
HIP Products find great application for Redensification, Near Net shaped components and Bi-metallic components.